Condition: Brand New
Packing: With Retail Box Package
Specifications: Compatible with other brands


WARNING:
CHOKING HAZARD - Small parts. Not for children under 6 years old.
LEPIN 07055 Batman Arkham Asylum Set is 100% compatible with all leading brands of building toys. You can easily mix and put together with your existing building bricks and minifigures.

LEPIN building blocks are of premium quality. All LEPIN bricks are made of premium high quality ABS (Acrylonitrile Butadiene Styrene) material and safe for kids.

Product description

Bust into Elizabeth Arkham Asylum with superhero Batman™. Using the Phantom Zone Projector component, banish Supervillains and The Joker™ . This exceptionally detailed collection from THE LEPIN BATMAN FILEM includes the enormous Arkham Asylum version with several distinct places --such as Dr. Harleen Quinzel's workplace, four cells, ward office, an 'x-ray' inspection machine, canteen, laundry room and visitors' room - also plus a police car, independent five-story watchtower and lots of passionate elements. With 12 different minifigures and many Supervillain characters also contained in the building toy set. So, the possibilities of role-play are endless.

• Keep watch on Arkham with Aaron Cash in the ward office with various elements such as a computer, desk, secure, video tapes and donut.
• Accessory elements include Robin's cape, Batman's Phantom Zone Projector, cape and new molded utility belt, Dr. Harleen Quinzel's clipboard, Aaron Cash's hook, and the GCPD officers' 2 walkie-talkies and 2 handcuffs
• The Arkham includes a snow and decorative elements, roof with chimney-pipe, exterior searchlight components, large entrance doors, a statue, 'x-ray' inspection machine, ward office, Dr. Harleen Quinzel's office, guests' area, four cells with doorways and hanging vines beyond Poison Ivy's cell, canteen, laundry area, red telephone case with a telephone element and another lookout tower.
• Feed the offenders from the canteen with a table along with various elements such as plates, trays, pretzels, sausages, donut, watermelon, cheese, and milk and juice cartons, and another picnic table assemble with four seats for minifigures.
• Visit the offenders from the guests' room including a divider wall with a phone element and window element on both sides.
• Reveal a sword'x-ray image' because you direct a minifigure via the security system.
• Help to operate Arkham Asylum out of Dr. Harleen Quinzel's workplace, including assorted elements such as a pc, rotating seat and 2 syringes.
• Police car includes a detachable roof, an opening trunk, opening doors, translucent police light elements.
• The laundry comes with two washing powder case, washing machines, broom and other components.
• The watchtower includes five storey and miscellaneous elements including two TNT explosives boxes, a special basketball hoop, also plus two loudspeakers and three computer displays.
• This action-packed set features a hugely detailed Arkham Asylum with a guard tower plus a police car.
• Includes 12 minifigures: Robin™, Batman™, Aaron Cash, Poison Ivy™, Dr. Harleen Quinzel™, Barbara Gordon, Two-Face™, The Joker™, The Riddler™, Catwoman™ and two GCPD officers.
• Also includes weight training equipment components such as a bench for a minifigure with a barbell and barbell stand, plus two dumbbell hand weights.
• This collection is compatible with brand bricks and recommended for ages 16+.
• Arkham Asylum is approximately 11" (30cm) high, 9" (24cm) deep and 18" (46cm) wide.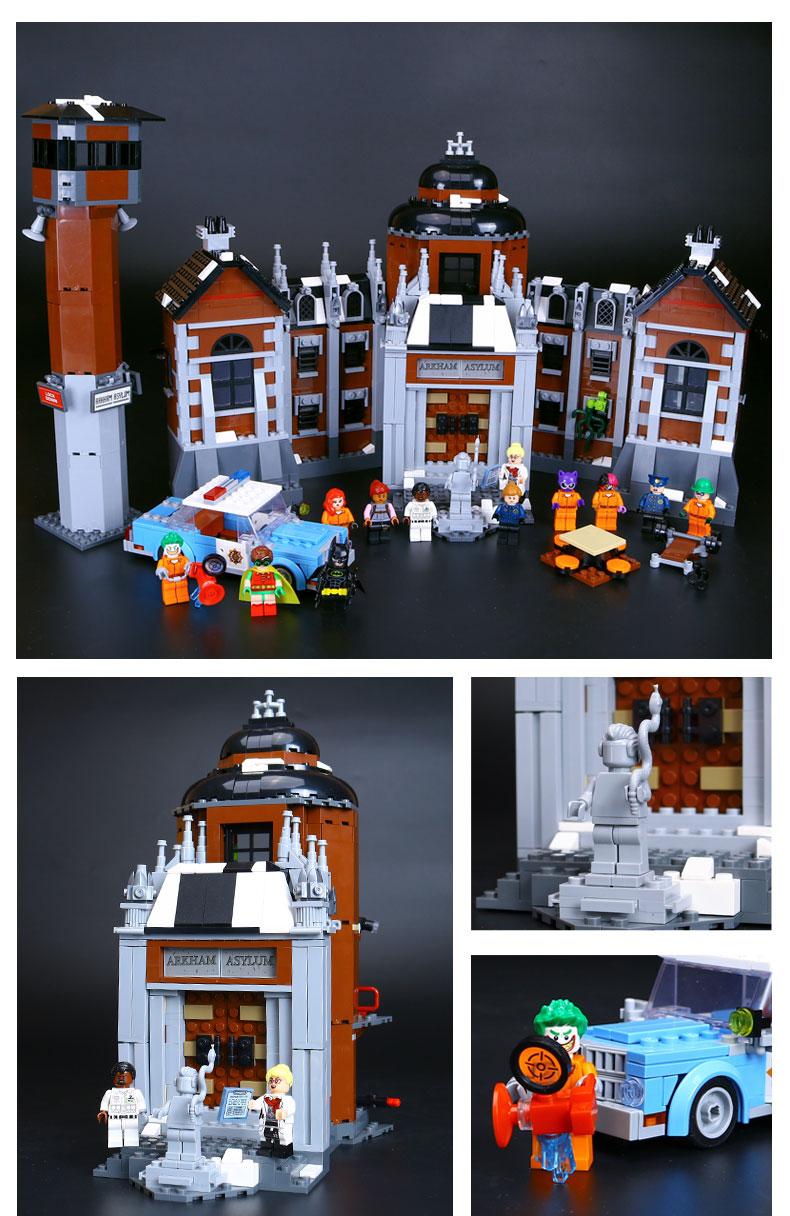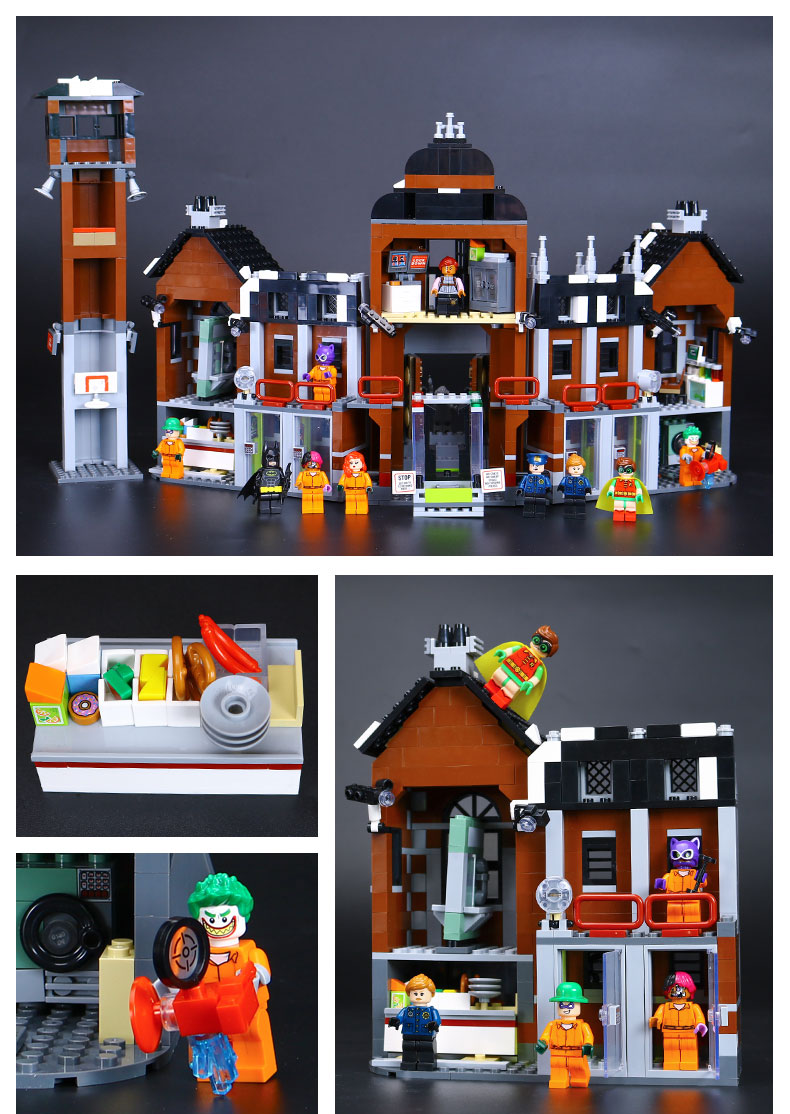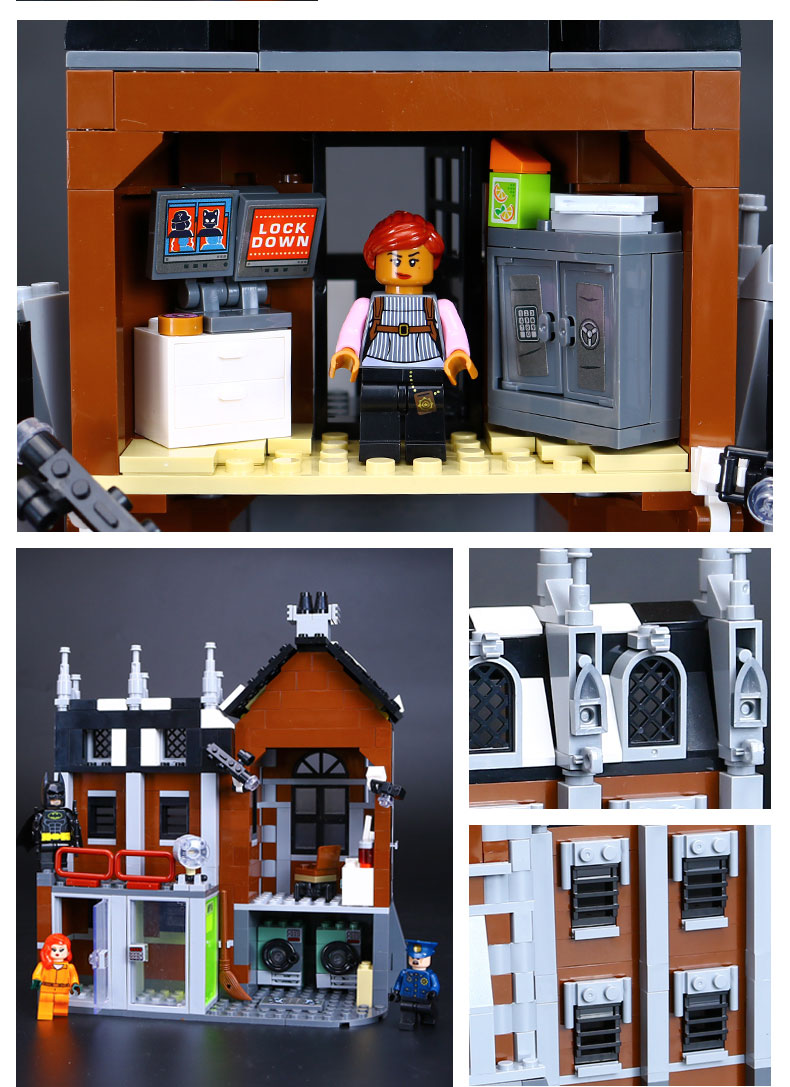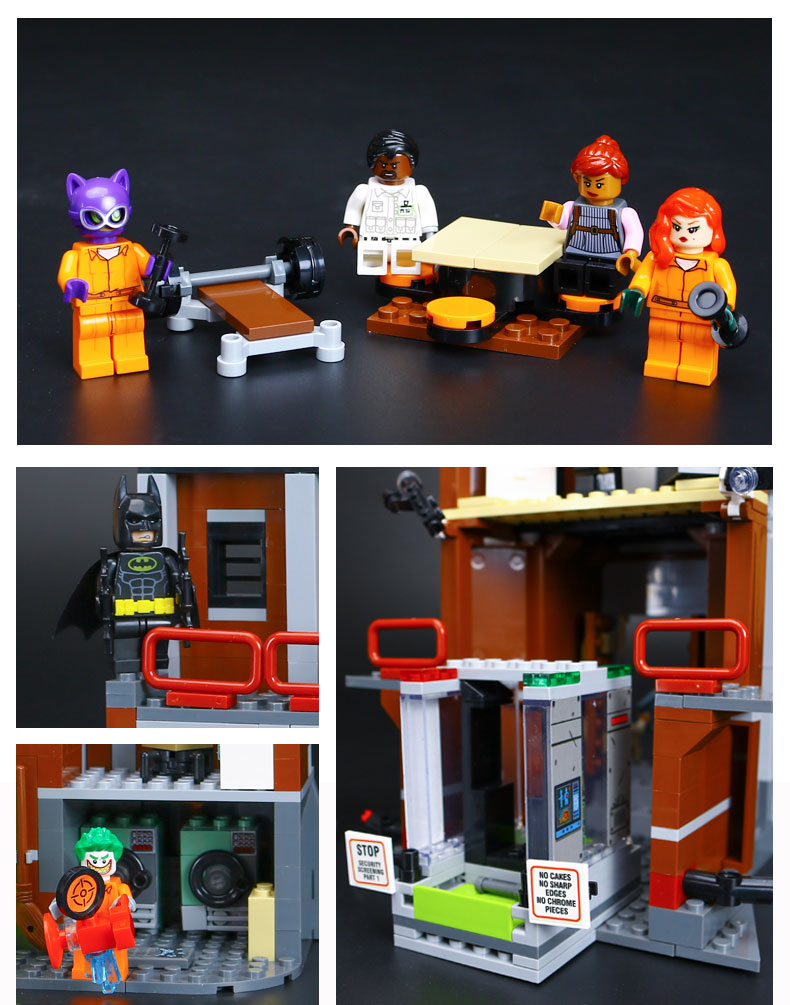 Reviews
(0)