Condition: Brand New
Packing: With Retail Box Package
Specifications: Compatible with other brands


WARNING:
CHOKING HAZARD - Small parts. Not for children under 6 years old.
LEPIN 15037 Creator Expert Downtown Diner Set is 100% compatible with all leading brands of building toys. You can easily mix and put together with your existing building bricks and minifigures.

LEPIN building blocks are of premium quality. All LEPIN bricks are made of premium high quality ABS (Acrylonitrile Butadiene Styrene) material and safe for kids.

Product description
Drop in at the LEPIN® Creator Expert 15037 Downtown Diner, in which you are going to find a wholesome portion of surprises and fun. This beautiful model includes removable construction sections for easy accessibility to the highly detailed inside, which includes a diner in 1950s style with a red bar stools, large curved front window, jukebox, counter along with a open-plan kitchen. The second floor includes a fitness center with boxing ring, weight exercise room and punching bag, while to the third floor you'll discover a complete with vocal booth, recording studio, mixing desk and a refreshments cupboard. This building's facade includes Streamline Moderne styling with a big 'DINER' signal. Other external features include balconies, arched windows and a stairs, and a pink convertible automobile and a in depth pavement, finish with mail, parking meter, flowerpots and a streetlamp. This unbelievable classic toy was designed to give a rewarding and challenging construction experience with a little nostalgia and appeal. Contains 6 minifigures.

• Special components include new flower heads and flower stalks, also 2x2 plate with two studs, 1x3 jumper' plates, plus a minifigure torso with boxing gloves.
• This set is compatible with brand bricks and includes over 2,778 pieces and is recommended for ages 16+.
• The 3-storey Downtown Diner includes a great many of brick-built details, such as a facade with teal-and-pink Streamline Moderne styling plus a big 'DINER' signal, arched windows, outside stairs, drainpipe, decorative roofline, balconies, a rooftop terrace and opening skylight, and a thorough sidewalk with a mail, flowerpots, parking meter and a ornate streetlamp. This building toy set also contains a pink 1950s-style convertible.
• Drop in at the fitness center for a few rounds in the boxing ring or a fantastic work out on the punching bag.
• Collect and assemble an Whole city with the LEPIN® Creator Expert Modular Buildings series 15010 Parisian Restaurant, 15011 Detective's Office, 15001 Brick Bank and 15019 Assembly Square.
• Help the chef prepare the quickest food in the city while the roller-skating waitress pops up the orders.
• The first floor includes downtown American diner in 1950s style with red barstools, a large curved front window, chairs, candy machine, jukebox, counter, two pop tops, a kitchen plus a coffee machine, a stove hood and cooker.
• Take a ride at the fashionable convertible and head for a diner where fast music and food are on the menu.
• Remove the construction segments to get the detailed inside.
• Mid-level includes a fitness center with a punching bag, boxing ring, weight exercise room, a wall clock and water dispenser.
• The second floor includes a recording studio with soundproofed walls, vocal booth, a refreshments cupboard and mixing desk.
• Accessory components include guitar, roller skates, gold record award along with a buildable barbell.
• Open the eavesdrop and skylight on the creating of a hit record.
• Includes 6 minifigures: a chef, waitress, boxer, rockstar, director and a Realtor.
• Downtown Diner measures over 13" (34cm) high, 9" (25cm) wide and 9" (25cm) deep.
• New decorated components incorporate a record cover, decorated doorway, tons of teal and pink colored components, along with a dual face minifigure with grinning expressions and singing.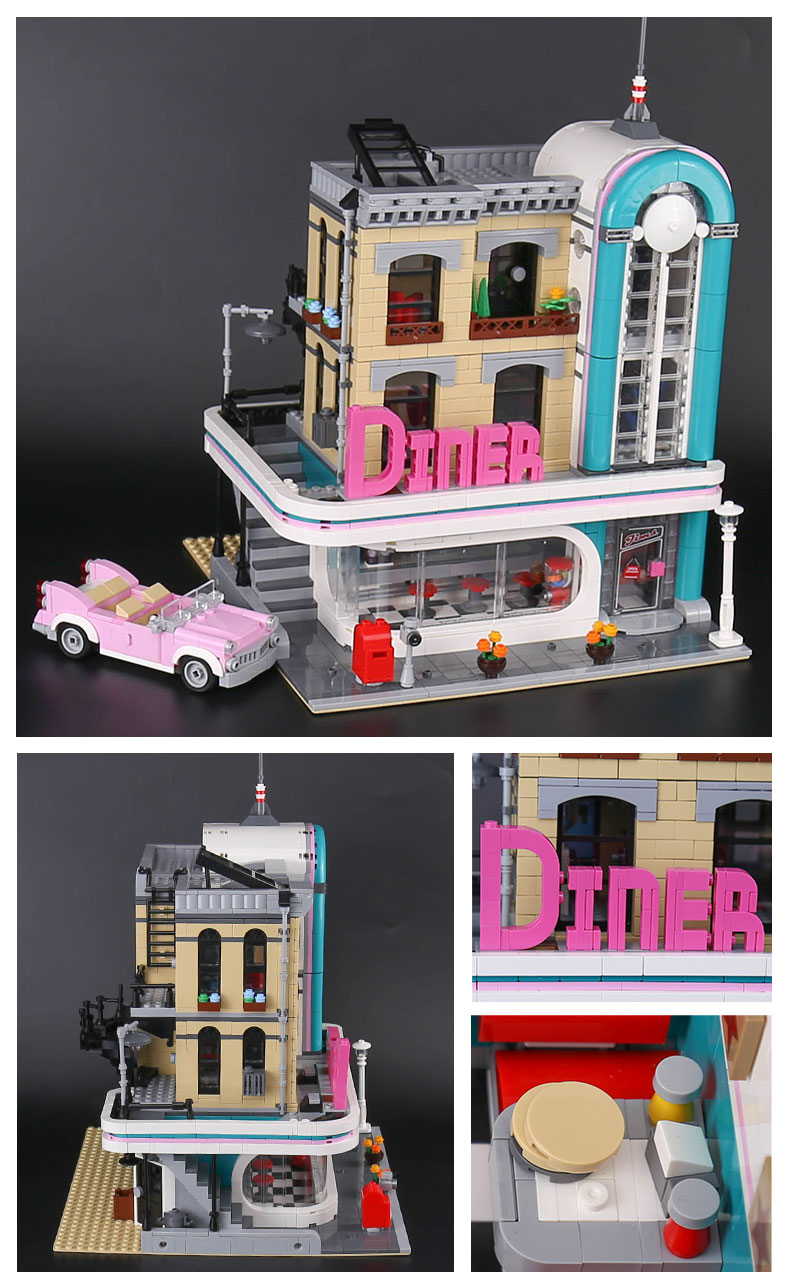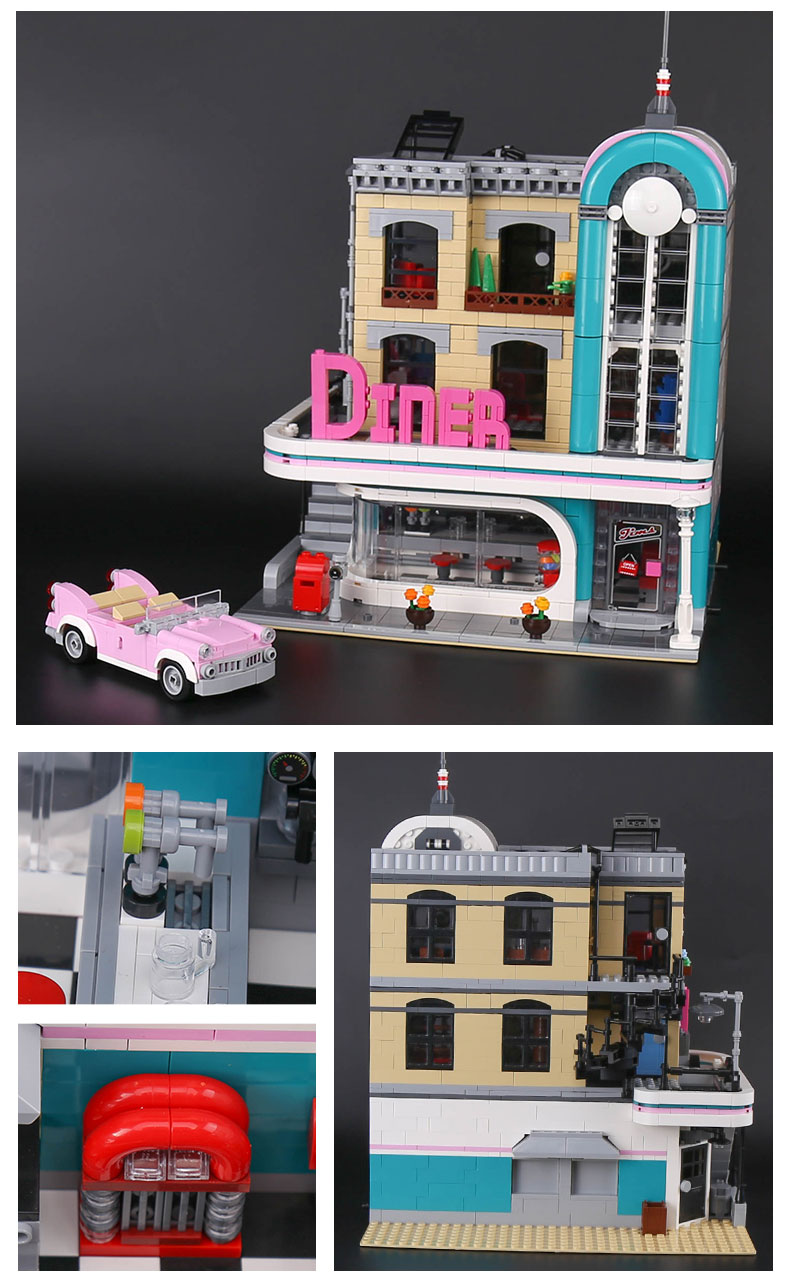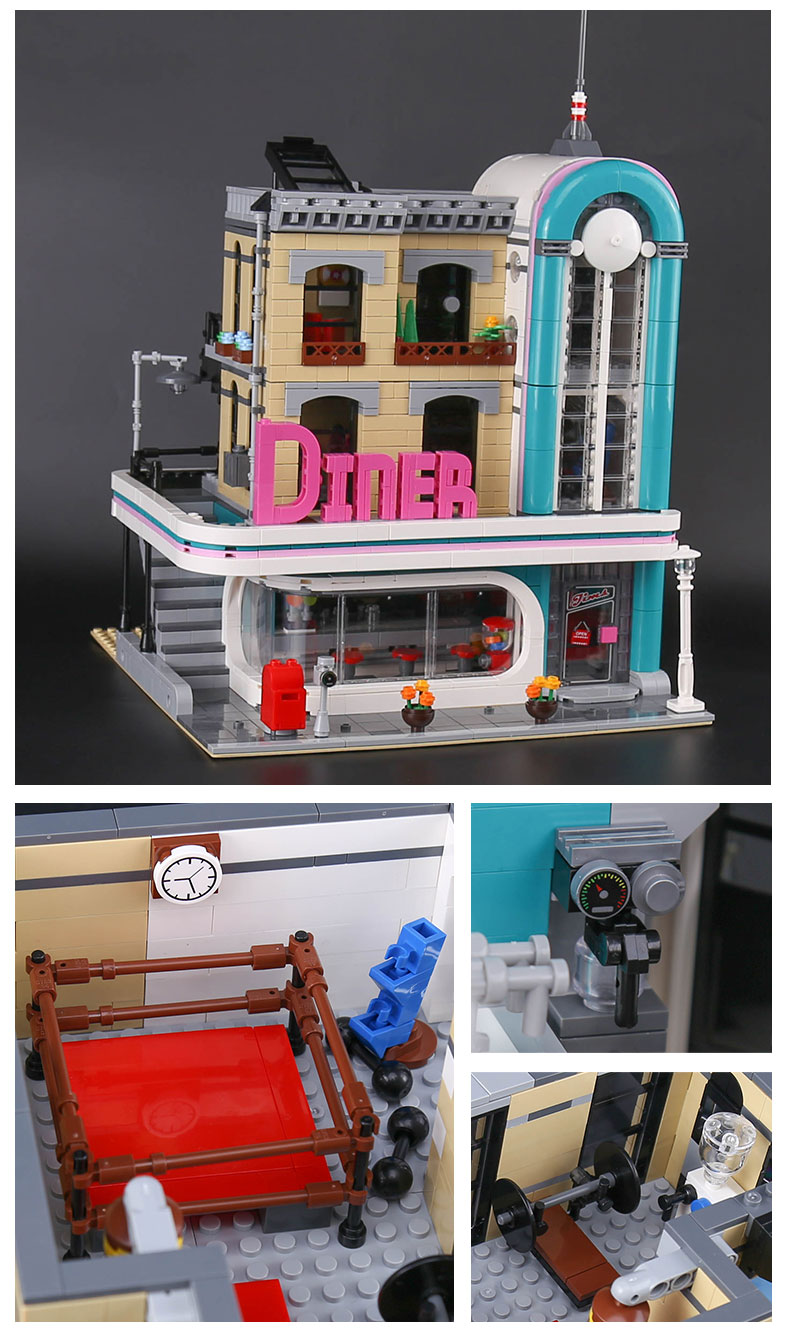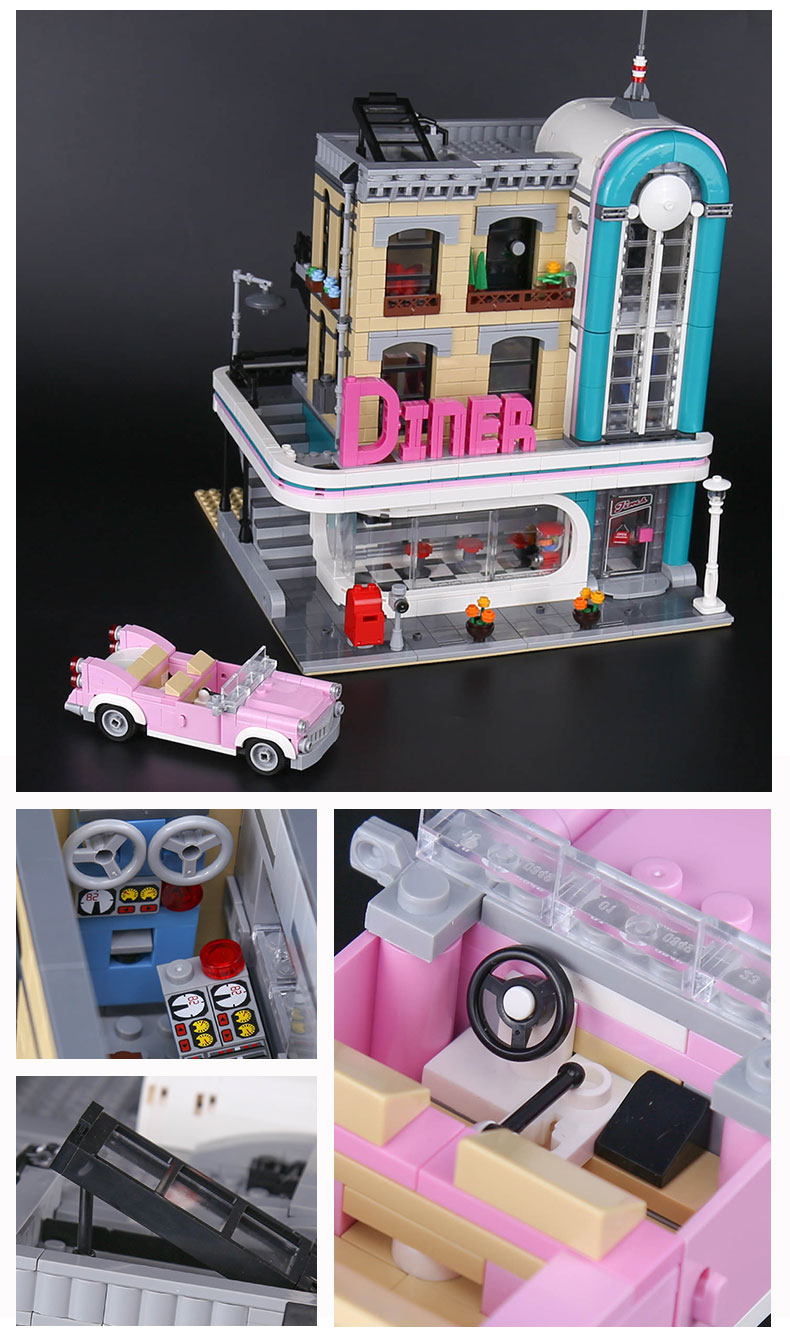 Reviews
(0)