Condition: Brand New
Packing: With Retail Box Package
Specifications: Compatible with other brands


WARNING:
CHOKING HAZARD - Small parts. Not for children under 6 years old.
LEPIN 06022 Ninjago Temple of Airjitzu Set is 100% compatible with all leading brands of building toys. You can easily mix and put together with your existing building bricks and minifigures.

LEPIN building blocks are of premium quality. All LEPIN bricks are made of premium high quality ABS (Acrylonitrile Butadiene Styrene) material and safe for kids.

Product description
Coem and Join the Ninja at the wonderful Temple of Airjitzu!

Enjoy the supreme LEPIN NINJAGO™ construction experience as you assemble the Temple of Airjitzu and neighbouring village! The exceptionally detailed Temple construction has many beautiful architectural features such as Oriental-style decorated doors and sliding doors elements. The complex wooden-frame-style walls of this adjacent Blacksmiths and amazing curved roofs of this Smugglers Market may also examine your LEPIN construction abilities. And with each Ninja comprised in one set for the very first time plus plenty of other important personalities, you are able to jelqing all of your favourite NINJAGO experiences. Take tea at the reception center of this Temple, clinic your Ninja moves from your training area or combine Wu in his research to paint or read. Discover that the Ninja glider above stairs at the Blacksmith's workshop, walk through the bridge defended by the rock dragons and find hidden treasure in the Smugglers' Market. Then switch off the lights in the area to see the Temple's illuminated turning shadow theatre! Contains 12 minifigures with various weapons: Lloyd, Zane, Kai, Jay, Wu, Cole, Nya, Misako, Postman, Dareth, Claire and Jesper.

• Comes with 12 minifigures with various weapons: Lloyd, Zane, Kai, Jay, Wu, Cole, Nya, Misako, Postman, Dareth, Claire and Jesper.
• Temple of Airjitzu comes with transparent plastic parts such as windows elements with Oriental-style decoration and teapot and bowl, reception center with a floor carpet in geometric pattern, sliding doors, table, 2 Ninja swords, shadow theater with spinning elements and a light brick, Ninja training room, a practice target and Ninja bow, Wu's study with art canvas elements and 3 books, and an attic
• Drink java, prepare for a Ninja and research with Wu in the Temple!
• Get six Ninja in one set for your very first time!
• Wu minifigure ensemble is brand new for autumn 2015
• Village includes the Temple of Airjitzu, Blacksmith's workshop along with also Smugglers' Market linked by paths, bridge with 2 stone-style dragons and steps, plus grass stalk elements and a statue of Sensei Yang
• Weapons comprise Katanasfor Lloyd, Zane, Kai, Jay, Cole along with also Nya
• Smugglers' Market includes Oriental-style roof, gold Oriental details, two hidden treasure box filled with various golden weapon components, register with bread picture, signal with bass picture, and assorted elements such as: two Ninjago trading cards at a sofa, barrel with two bass, two fishing poles, food and bud stem components
• Recreate your favorite scenes in your NINJAGO™: Masters of Spinjitzu TV series
• Misako, Postman and Dareth minifigures are brand new to LEPIN NINJAGO™ places for drops 2015
• Seek concealed treasure chests in the Smugglers' Market!
• Lloyd, Kai, Nya, Zane, Jay and Cole minifigures come in dark Ninja outfits which are fresh for autumn 2015
• Put on a display for your buddies with all the illuminated turning shadow theatre!
• Find the Ninja shredder in the Blacksmith's workshop
• Blacksmith's workshop features opening door, wooden-frame-style walls, sign with anvil and hammer image, realistic interior with anvil, other assorted tool elements and hammer, upper floor removable spear elements, 2 trees outside with fallen leaves elements, rat element in the attic
• This set is compatible with brand bricks and Temple of Airjitzu stands 16" (42cm) high, 7" (19cm) deep and 7" (19cm) wide
• Village stands 16" (42cm) high, 13" (35cm) deep and 20" (52cm) wide
• Blacksmith's workshop stands 5" (15cm) high, 7" (20cm) deep and 5" (15cm) wide
• Smugglers' Market stands 5" (14cm) high, 7"(20cm) deep and 5" (14cm) wide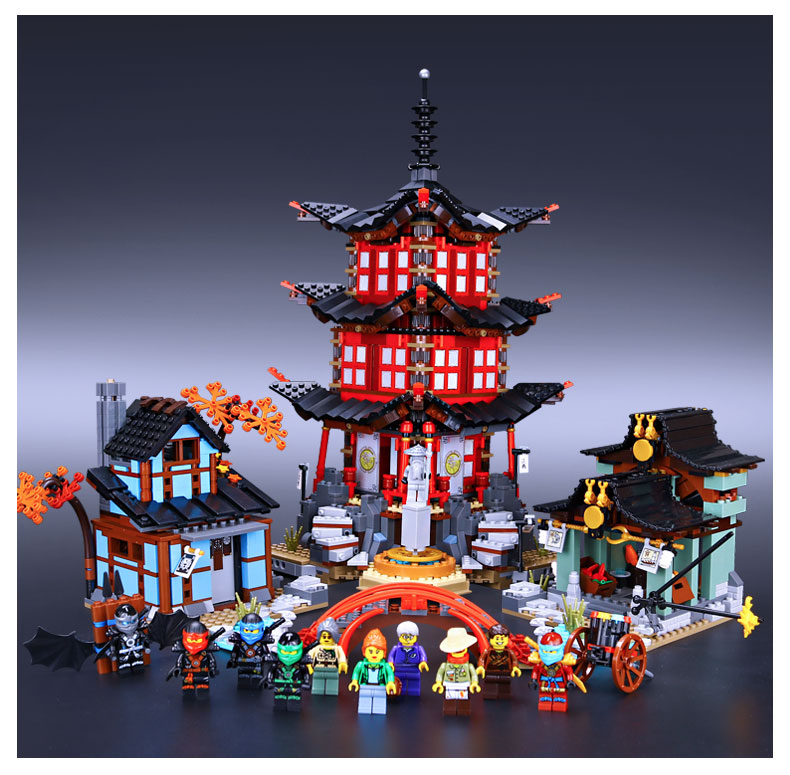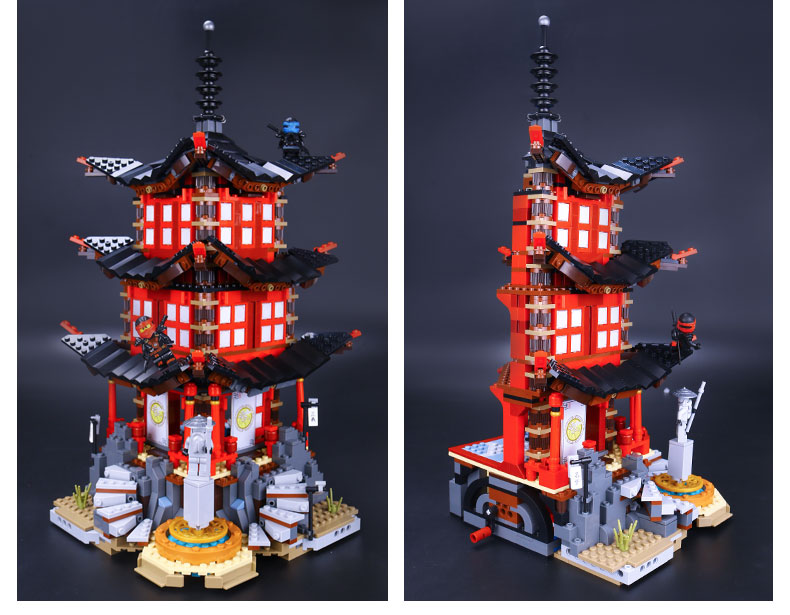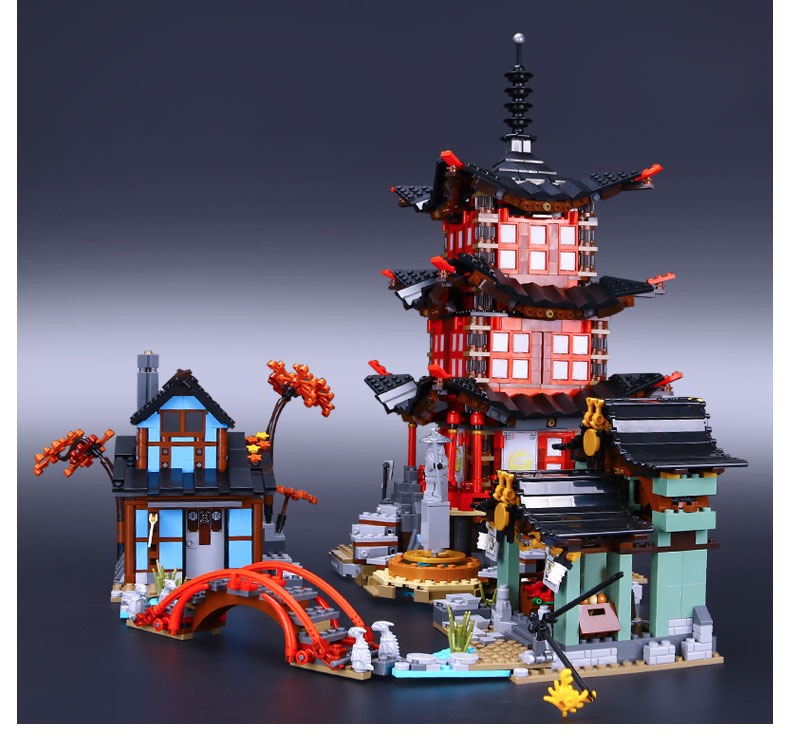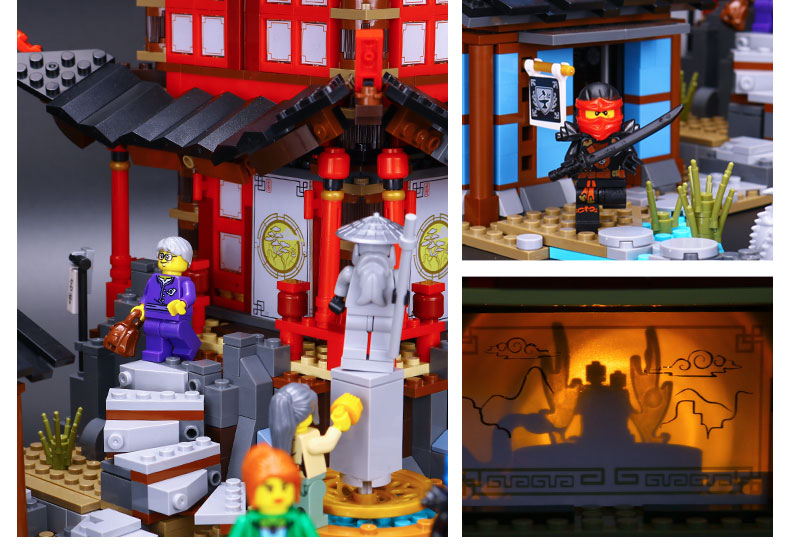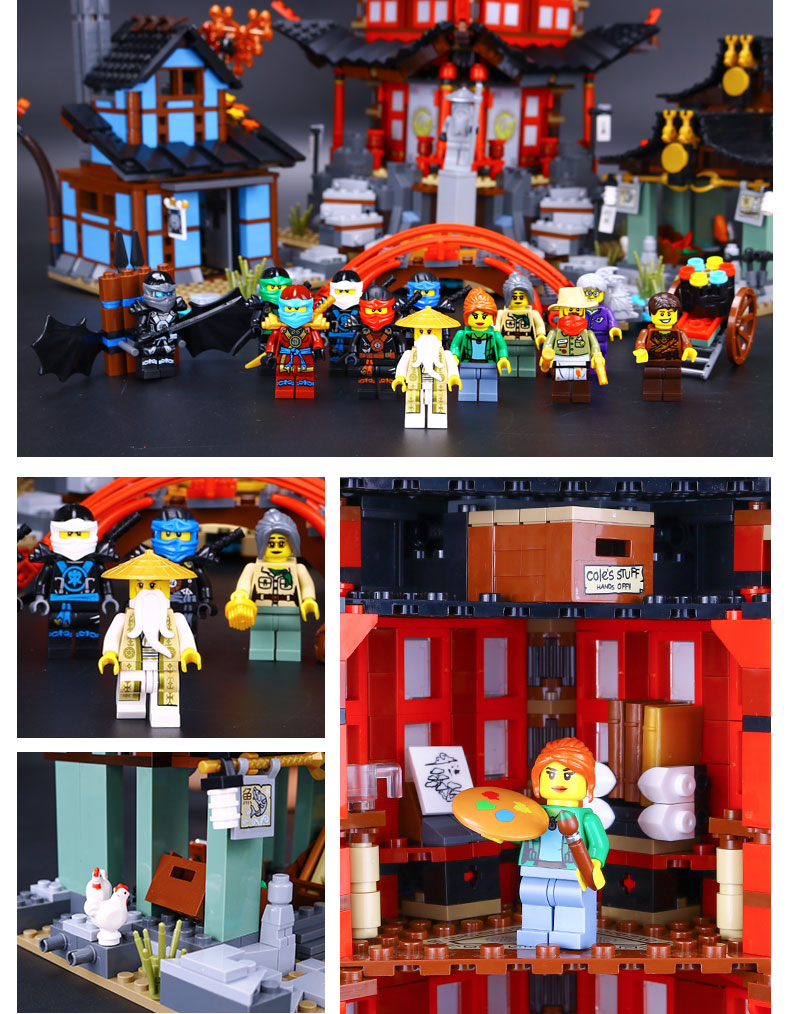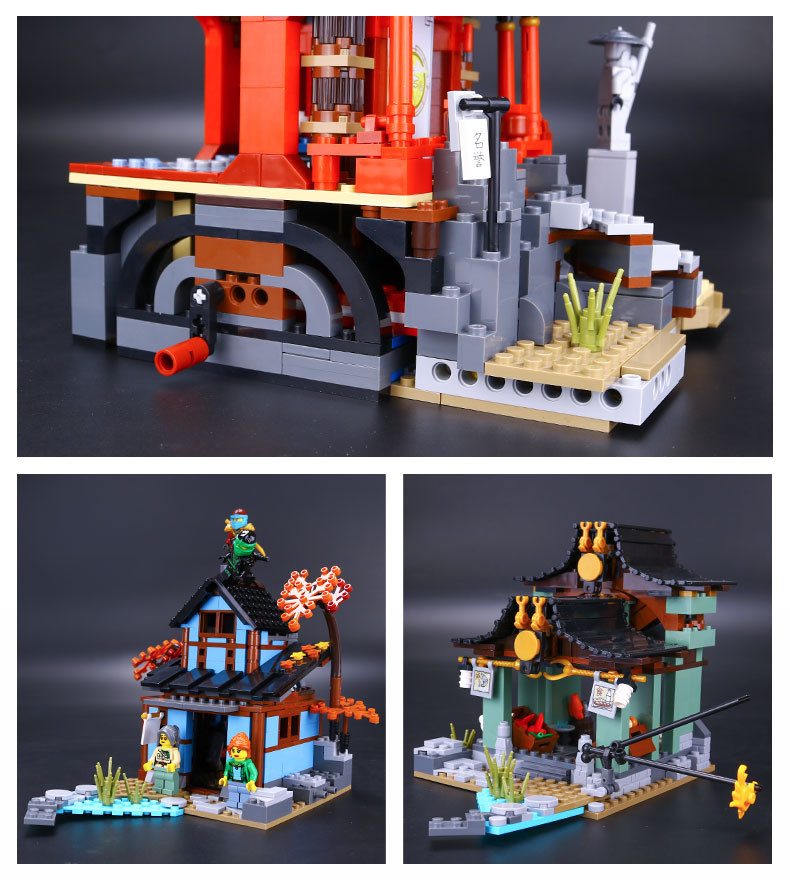 Reviews
(1)
Filter:
(0)
(0)
(0)
(0)
gutes Spielzeug
1

of

6

people found the following review helpful
Total Rating:
Für Siebenjährige schwierig zu bauen.Spielzeug an sich gefällt. außerdem ist das besser als das Kriegspielzeug und die extremen Computerspiele.